smart building — why we choose modular building
You've probably heard or read that Skilpods are modular buildings. But what exactly is that? And why do we choose modular building as a technique?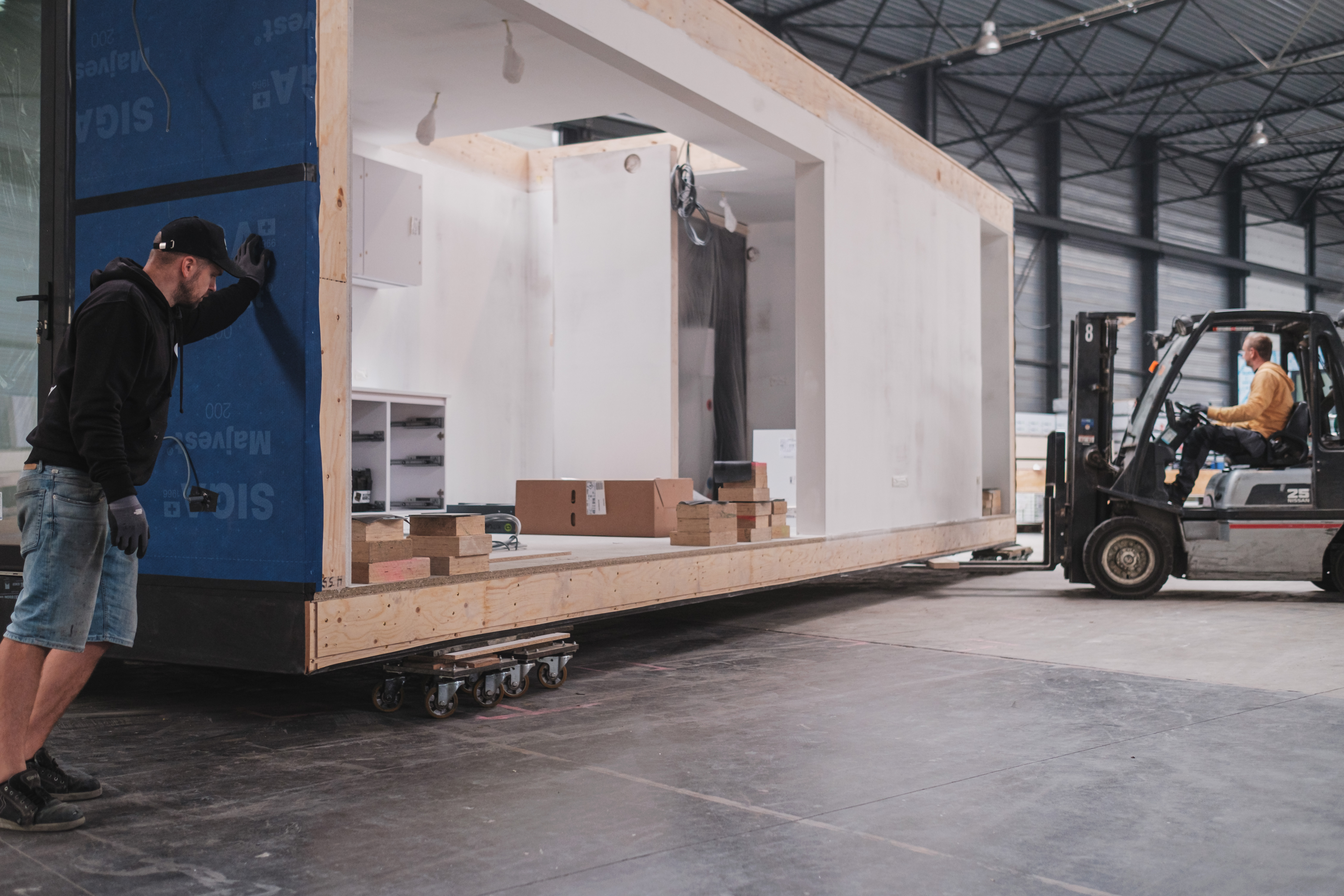 what is modular building?
Modular building is a specific form of prefabricated construction. With prefabricated construction, parts of the building are assembled in advance in a workshop and then transported to the building site, for example, a wall, a roof, a layer of wall finish, etc.
In modular building, we go one step further and make 3-dimensional finished volumes, the so-called modules. This can range from a part of a building, such as a technical room or a bathroom to a completely finished building, for example, tiny house modules.
Skilpod is somewhere in between: our houses consist of 2-4 larger modules, in which we sometimes work with smaller modules like our technical room.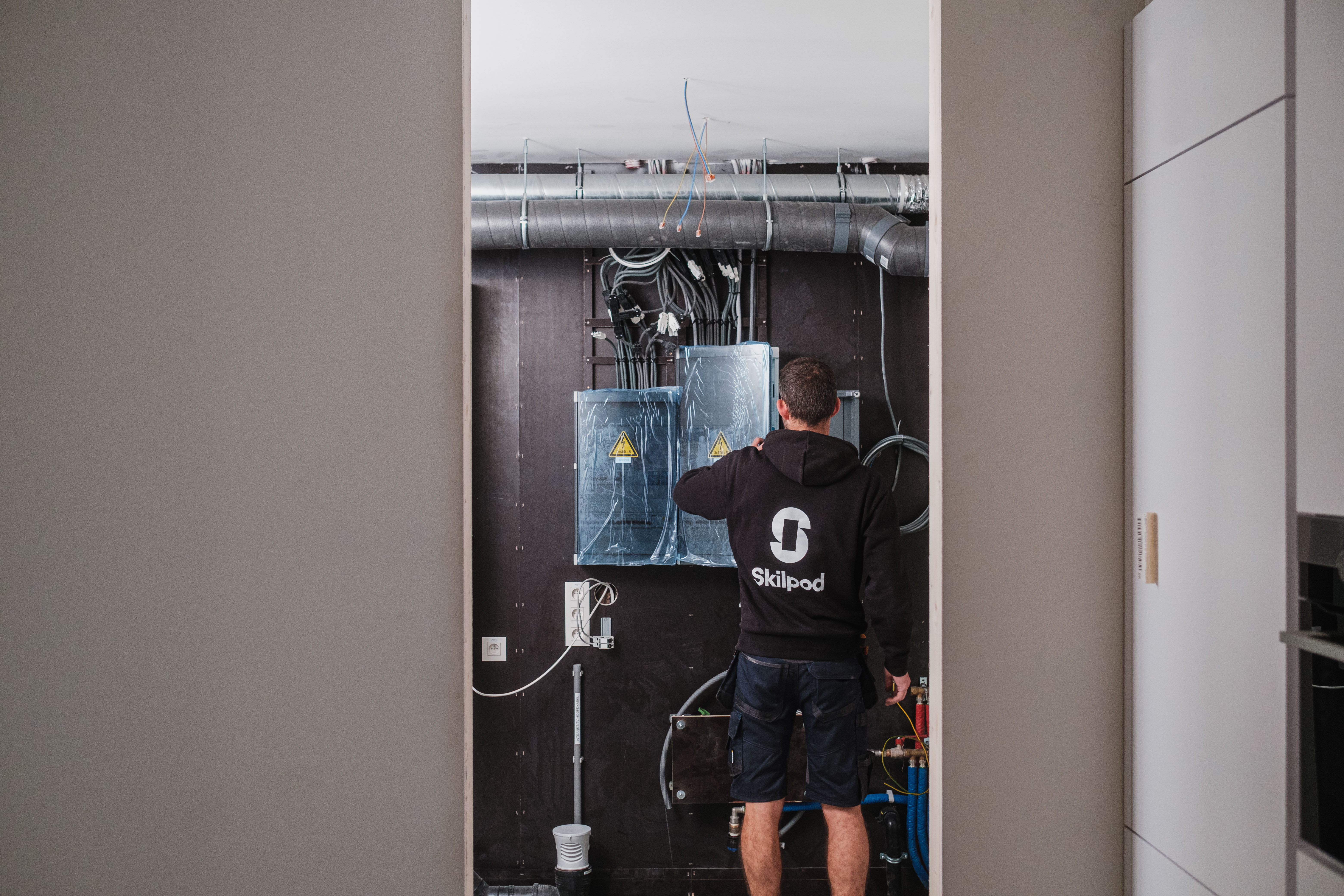 is modular construction the same as timber frame construction?
No, they are two different things, although they go together perfectly.
The term timber frame refers to the material that forms the structure of the house. You could build modular homes with other materials such as steel and concrete. There are even modular builders who work primarily with cardboard. Conversely, you could assemble a wood frame home entirely on the construction site.
Many modular builders choose timber frame construction because wood is a very sustainable material and they love the indoor climate of a wooden house. Wooden modules are also lighter, making them easy to transport.
why modular construction?
At Skilpod, we think carefully about each step of the building process and always weigh the pros and cons. Modular building is certainly not the only good building method, but it is the best one for Skilpod.
what are the advantages?
modular construction is faster
The main advantage is time savings. We can prepare the construction site and build the modules at the same time. That saves us months. At Skilpod we also opt for a fixed series of standard modules, for which we do the research and development in advance. This allows us to work a lot faster for our customers than if we had to make a design from scratch.
Moreover, we are never troubled by the weather in our workshop. So for the construction of the modules, it is not a factor that can cause delay and uncertainty. The weather can be a factor in the preparation of the site, but since we only have to lay the foundations, the impact is limited.
This speed gain on our side means that you, the customer, can move into your house much faster than with a traditional builder or a timber frame builder who assembles everything on site. So you get quicker returns on your investment and don't have to bridge two mortgages or rent another home for years.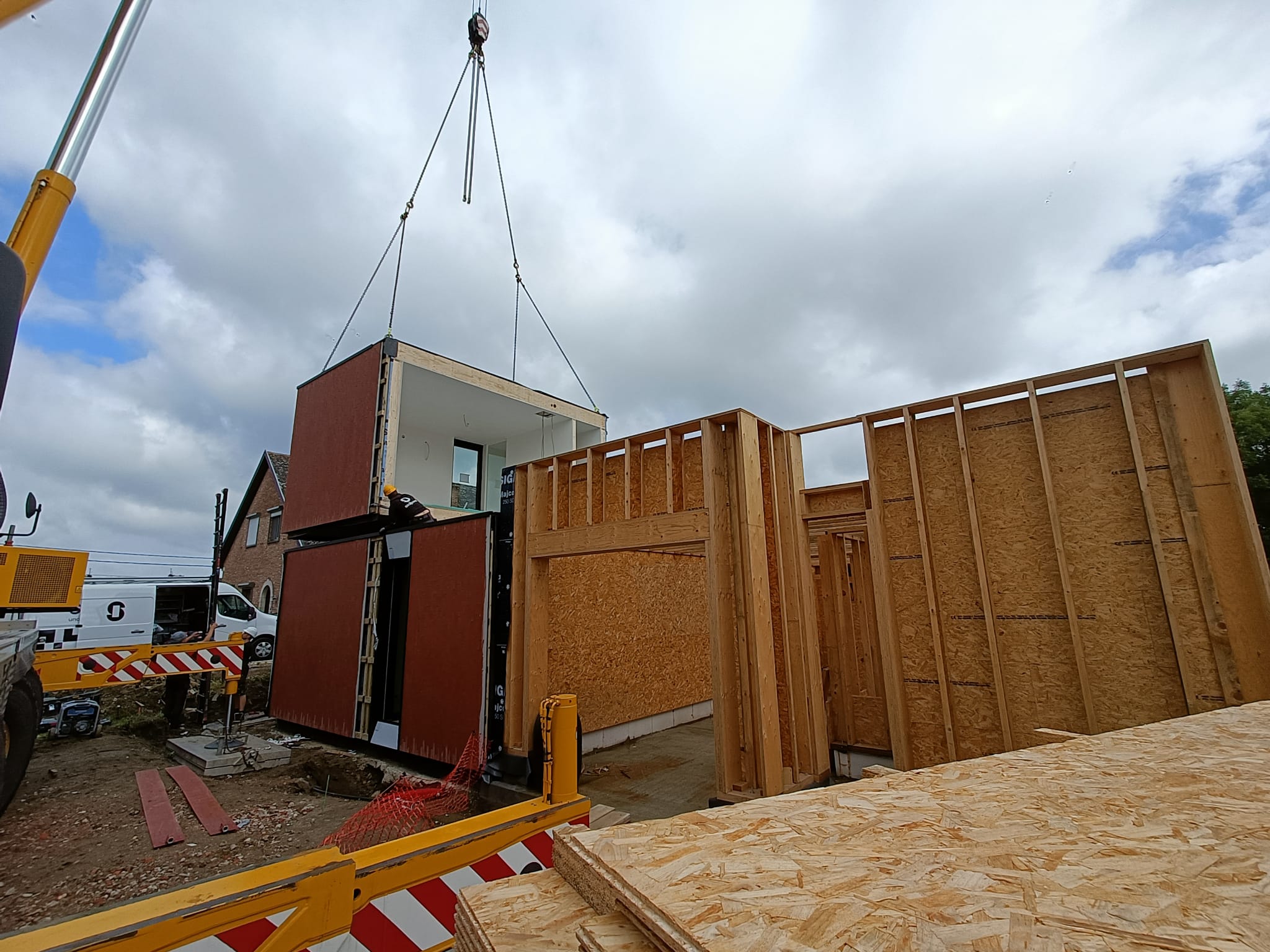 modular construction is more sustainable
Most of our work is done centrally in one workshop. This means that we gather all the materials and people there and thus save enormously on emissions due to travel.
We can be much more efficient with the available materials and machines, so there is less waste and energy consumption. The little waste that does exist, we can sort in a better and more detailed way, so that it can be better recycled. We even have direct agreements with some suppliers to pick up materials for reuse or recycling.
modular construction is safer
Of course, it seems very spectacular when a module is attached to the crane, but that is often about ten minutes of the entire building process. Compare that with a construction site that remains unfinished for months and where you have to take all kinds of measures to make it safe. The inconvenience to the neighborhood is often considerable and sometimes whole sections of the footpath and the road are closed off for months on end in order to limit all the risks. If we at Skilpod close the road, we are gone again after a few hours.
The house itself is inside our workshop during construction. This way there is no risk of weather damage and no moisture can get stuck in the walls. We can also store our materials with us more safely. They cannot be stolen easily -which causes delays- and they are protected from wind and weather.
It is also safer for our craftsmen. In our workshop, they never have to work at large heights. Floors, walls, roofs, it's all just built with the two feet on the ground. We have all kinds of machines in-house that help them lift, carry and place materials. That's safer and more pleasant in terms of working conditions.
why not build modular?
There are builders who do not choose modular construction, and they may have very good reasons for doing so. These do not apply to our Skilpods.
For example, you may want to build a design that, no matter how you try to divide it into modules, won't fit on a truck. Then, of course, it never gets to the site and you have no choice.
Perhaps you want to build in extremely remote places, where trucks and cranes can get to. Or, conversely, in a very densely built-up historic center. In Flanders, most of the building land available for open or semi-open construction is in easily accessible locations. So for our Skilpods, this is rarely a problem and does not outweigh the benefits.
Sometimes you read that you cannot customize or personalize modular homes, either beforehand or during the works. In principle, there is nothing to stop a modular builder from doing that, but it then comes at the cost of all the gains in speed and efficiency you make by standardizing. That's why at Skilpod we choose not to make any modifications or customizations and work with a selection of finishing options.
A final important drawback is that modular construction is not suitable for renovations. By definition, you have to do those on-site and they are always tailored to your existing building. If you buy an old building and still want to use modular building techniques, the only option is demolition and reconstruction. By the way, this is still covered by the favorable 6% VAT regime until the end of 2023, so you may well end up cheaper than if you renovate. Definitely something to calculate.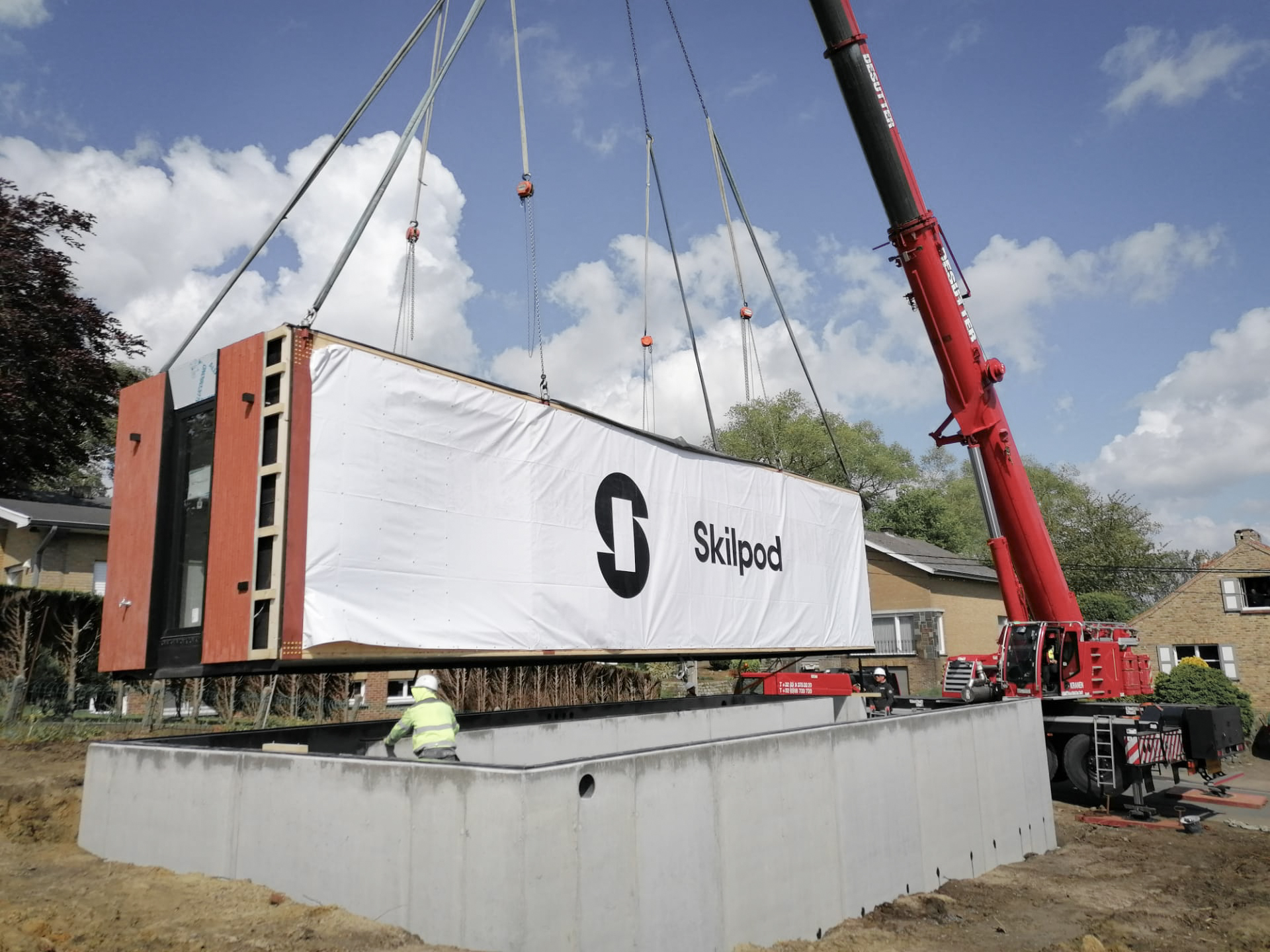 and what about the quality?
We obviously can't speak for all modular builders, but at Skilpod we only make houses that fully meet all the standards of a permanent family home, which should last for generations. There are legal standards for this, which every home must meet, regardless of the method of construction.
Under the Breyne Act, we are liable for 10 years anyway, which gives you still more security. This can of course be very different if you are talking about containers for temporary (emergency) construction, portable tiny houses, etc., where the national rules are not always that clear and you sometimes have different regulations per municipality.
Legislation aside, our Skilpods obviously need to be sturdy enough to hang from a crane. That wouldn't be possible if you just cobbled together a few planks. The sturdiness and stability of our construction has been calculated in detail by our engineers.
As for the finish, that too differs from builder to builder and has nothing to do with the concept of modular construction in itself. As a company, you can choose to make your modules as cheap as possible and save on appliances, the design of kitchens and bathrooms, the number of outlets and so on. We at Skilpod are not in favor of that. We choose "best-in-class" finishing. That is, we don't go for the most expensive solution, but for the option where you get the most out of it within the construction budget of the average Fleming. We only build houses that we ourselves want to live in.
more about smart building